---
Quick-links to Results
Welcome
Looking for a new challenge?
Want to make new friends?
Do you enjoy outdoor activities?
Need some light exercise?
Bowls, or lawn bowling as it is known in Canada, is a sport that men and women of all ages can play together on an equal basis.
Physical strength plays a small part in this game. Much like curling, skill and strategy are the real factors.
Members enjoy competing in tournaments hosted by our club and at other clubs around the province as well. For social bowls (mixed), teams are 2, 3 or 4 people. Since there are no set teams, you are not obligated to be there every day.
One of the best things about lawn bowling is it doesn't require a lot of expensive equipment. All you need is a pair of flat soled shoes, and you're on your way. We will provide everything else you need to get you started off on the right foot.
We welcome all visitors, so why not drop by see how the game is played! Learn more about our club here


---
About the Midland and District Lawn Bowling Club
The Midland and District Lawn Bowling Club is located on the shores of Little Lake in the town of Midland, Ontario. You can access the Club by walking through Little Lake Park. Or by car, via the lane off King St., just north of Galloway Blvd.
A Brief Look Back
In 1972, Ken Ellis started his quest for a bowling green in Midland. He had been introduced to the game during a Florida vacation. Only a few people in town had ever participated in the game, but nonetheless, he was able to recruit a number of people to help him with his vision, including Mr. Ken Cowan.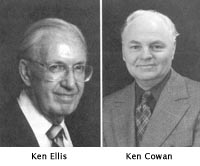 In 1975, the Club obtained a 20 year lease from the Town of Midland for a scenic parcel of land on the east side of Little Lake known as the old Heathron Lodge. A large cottage on the site became the clubhouse.
Known then as the Midland Lawn Bowling Club, the group obtained initial financing from the federal government's "New Horizons for Seniors" program and the Midland Civitan Club. The official sod turning took place in the fall of 1975.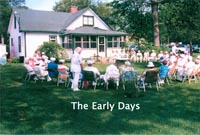 Ken Cowan stepped in as the greens-keeper and after two years of preparation, the Club was officially opened on June 27th, 1977, by then mayor, Moreland Lynn.
In 1994, the club house was expanded by refurbishing a school portable purchased from the Simcoe County Board of Education and moved to the site from Barrie.
In 2008, Ken Ellis and Ken Cowan were inducted into the Midland Sports Hall of Fame in the "Builders" category for their long time work with the Club.
Going Forward
Today, the Club is thriving. The clubhouse now has an office, members' lockers, a kitchen and a banquet/meeting room. The green is about 120 feet square and is comprised of 8 (and sometimes 9) rinks. It is flat and similar to a putting green. It is reputed to be one of the finest greens in Ontario for its consistent and fast surface. It is maintained daily by a paid greens-keeper and with the help of volunteers.
The lawn bowling season is similar to golf, mid May to October. We play 6 days a week usually with Sunday set aside for the greens-keeper. The organized play is usually in the afternoon, however, many prefer to play in the evening and thus drum up their own games. Any member can have keys that allows them to play whenever they like, within reason of course. The green has lights which allows for play well into the evening, particularly in the fall.
Our club belongs to the Ontario Lawn Bowls Association's (OLBA) District 13 which is also comprised of clubs from Collingwood, Barrie, Orillia and Stayner. You can pursue championships to the national level if you enter this competitive side of bowls.
There is very little "team commitment". Most bowling is based on a draw to create teams. There is one league (optional) sponsored by Canadian Tire. This league bowls every Monday night and has become just one of the may successful events of the Midland Lawn Bowling Club.
During the summer, the club holds "club tournaments" for members about once a week. These are optional and cost $5 extra per tournament. We also hold 4 to 5 "invitational tournaments" where players from other clubs will enter teams. Again this is optional and is a "step up" in the degree of competition. The cost is $10 extra per tournament.
Special Programs
The Club has an outstanding school program which was started in 2003. In co-ordination with elementary and secondary schools, this program introduces young people to the game of lawn bowling.
Community Living Huronia clients bowl during July. Our club provides many volunteers to provide an experience that is very satisfying and rewarding to all.
Visitors and Newcomers
Visitors are always welcome. Bowlers from other clubs around the world often drop in for a game.
Newcomers are encouraged to come out to try the sport. There is a special practice week ("Open Week") in late May (watch the local newspapers or this site for more details). All you need is comfortable clothing and flat-soled shoes or sneakers. We have 9 coaches lined up and ready to help. And, even if you show up unannounced, you will be shown the facility and how to play. After that, you are welcome to play for 2 weeks free.
The first season for new members is $70 (the cost of a round of golf). Regular members pay $140. This is the best deal in town when you consider that you could play 6 days per week (no Sunday bowling) for about 20 weeks.
Our members range in age from 10 to 90. So, come and experience bowling in Midland at the MDLBC, a "little bit of paradise by Little Lake".
---
In the News
Midland club hosts a variety of Tournaments
Metroland Media Group, August 2, 2017
Local pair wins "Life is Good" Tournament
Metroland Media Group, June 23, 2017
Lawn Bowlers win medals at Ontario 55+ Summer Games
Metroland Media Group, August 16, 2016
Canadian Tire League Wraps Up
Metroland Media Group, August 2, 2016
Tom Smith Trophy presented to Lawn Bowlers
Metroland Media Group, July 16, 2016
Men's Pairs Tournament held in Midland
Metroland Media Group, June 14, 2016
Canadian Tire owner Michael Ferris, Ceremonial First Bowl
Springwater News, June 2, 2016 (see page 4)
Midland's Stirling Wood 'excited' to wear Maple Leaf
Metroland Media Group, March 11, 2016
Midland lawn bowling duo receives Mink trophy
Metroland Media Group, September 22, 2015
Hebner, Stemp win mixed pairs event in Midland
Metroland Media Group, September 14, 2015
Ontario Mixed Pairs Lawn Bowling Championships
SNAP September 2015 Events
Ontario Mixed Pairs Lawn Bowling Championships
Focus 50+ Senior News Magazine see page 4
Penetanguishene lawn bowler helps BC team win bronze at National Championships
Metroland Media Group, August 29, 2015
Bourgeois Mixed Pairs Champs crowned on Midland greens
Metroland Media Group, August 26, 2015
Ontario Mixed Pairs Lawn Bowling Championships
Metroland Media Group, August 13, 2015
Midland hosts Provincial Lawn Bowling Championships
Metroland Media Group, August 6, 2015
Canadian Tire League wraps up in Midland
Metroland Media Group, July 22, 2015
Lawn Bowlers celebrate Victory at Midland Tournament
Metroland Media Group, July 21, 2015
---
Club Tournaments
(Click on a tournament to review results, click again to close)

---

Canadian Tire League: co-ordinators, general information and rules;
Download PDF, click here. View in new window, click here, to close window click here.

2017 Champions - The "Supremes"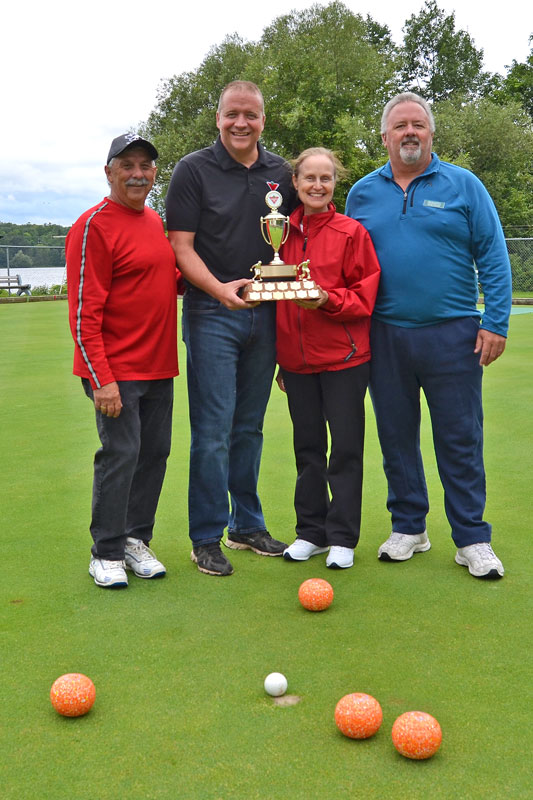 With the Canadian Tire League Trophy, "Team Supremes", Gary Butineau, Alian Mayer (CTC), Laurie McLeod and Glen Cughan
Standings
Scores
Schedule
Teams
---
---
Calendar and Events
---
---
Introduction to Lawn Bowling
Bowls (also known as Lawn Bowls or Lawn Bowling) is a precision sport where the goal is to roll slightly radially asymmetrical balls (called bowls) closer to a smaller white ball (the "jack" or "kitty") than one's opponent is able to do. This game is most popular in Australia, Canada, New Zealand, the United Kingdom, and in other UK territories.
The game takes place on a 120 ft. square of closely cut grass called a green. A green is divided into rinks 14-16 ft. wide, generally 8 rinks to a green.
Four types of games can be played:
Singles: one player against another, each using four bowls.
Pairs: a team of two against two, each playing using four bowls.
Triples: a team of three against three, each player using three bowls.
Fours: a team of four against four, each player using two bowls.
First, a small white ball called a "jack" is delivered down the surface of the rink and centered. Then, standing on a mat and going alternately, players deliver (roll) their bowls, the aim being to have their bowls come to a stop as close as possible to the "jack". The trick is that the bowls are biased (eccentrically balanced) and, therefore, do not roll in a straight line, but curl towards the "jack". A player must decide where the bowl should come to rest and then deliver the bowl along this visualized "line of aim".
The "feel" of the green is another important element in the game and dictates the "weight" with which a bowl should be delivered: IE., less weight for a fast green or short distance, more for a heavy green or long distance. The "jack" can be knocked and moved away (if lucky!) from the opponent and closer to one's own bowls.
The game is made up of a predetermined number of "ends" which consist of the playing of all the bowls of both sides in one direction on the rink. The first player lays the mat and, standing on it, rolls the jack up the green where it is centred by the "skip" (or, as in singles, the "marker"). The player then rolls the first bowl which is followed by one played by the opposition until both teams have played all their bowls. When the last bowl of the end has been played, the players decide who has the winning "shot(s)", how many, and the number is entered on the scorecard.
A game generally lasts about two hours.
---
Lawn Bowling Etiquette
Lawn Bowling etiquette is about good sportsmanship and common sense.
Here are some tips;
Be punctual.

Begin and end each game with a handshake. Be a gracious winner and a good loser.

Be ready to step to the mat and play when it is your turn. Possession of the mat is yours only until your delivered bowl comes to rest.

Wait quietly behind the collection of bowls and be prepared to take your next turn. Distractions such as loud noises or conversation, visible movement of players, objects or shadows, impact of kicked bowls, etc should be avoided while a bowler is on the mat preparing for delivery.

Remain quiet and still on the green behind the head and away from sideline markers until the score has been agreed upon by both teams.

You are part of a team, keep your head in the game.

Simply adjust your bowling to adverse conditions.

Criticism should always be constructive and given privately.

Be sure to compliment a good shot from either your team or an opponent. The enjoyment of a game of bowls is diminished if either team indulges in gamesmanship.

Be sure to support our teams by attending inter-club events.
---
Youth Lawn Bowling
In recent years, Canadians under the age of 35 have left their mark on lawn bowling at the national and international level, with young bowlers raising the profile in the sport.
Penetanguishene native, and Vancouver resident Tim Mason, shocked the lawn bowling world when he won his first Canadian title, barely a year after taking up the sport. To visit Tim Mason's website, click here.
The Midland and District Lawn Bowling Club will be, once again, operating a youth program this summer. The membership fee for the season (May - October) is only $30. Coaching will be provided by qualified coaches and bowling will be six days per week, weather permitting.
Members choose their level of participation, with options just to play recreationally and/or competitively in Club, District, Provincial and National tournaments.
If you are between the ages of 10 and 18 and are interested in trying lawn bowling (for free), email;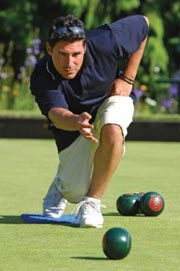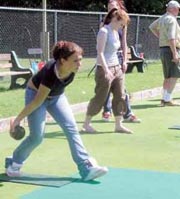 Youth Bowling in the News
Midland Siblings busy on Ontario Lawn Bowling Circuit
Metroland Media Group, August 13, 2014

CTV Toronto: The new faces of lawn bowling with Striling Wood
CTV News Video

Photos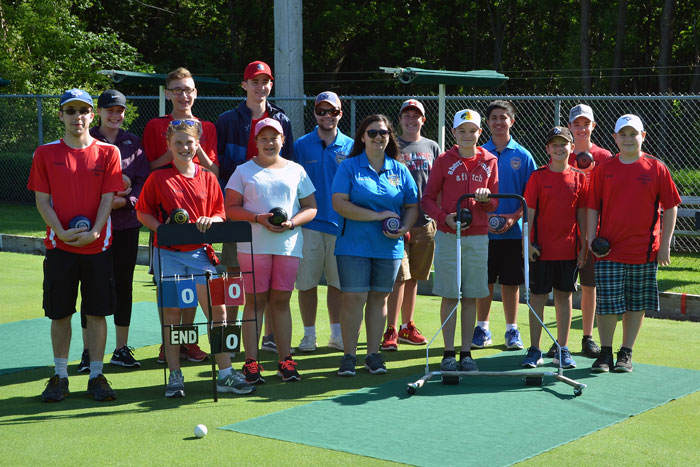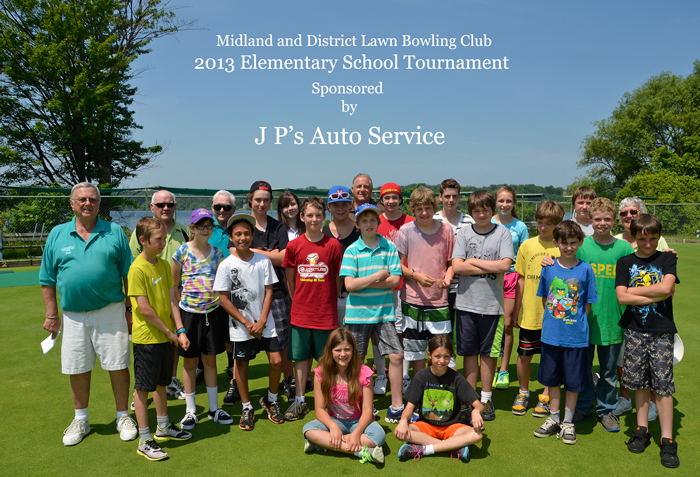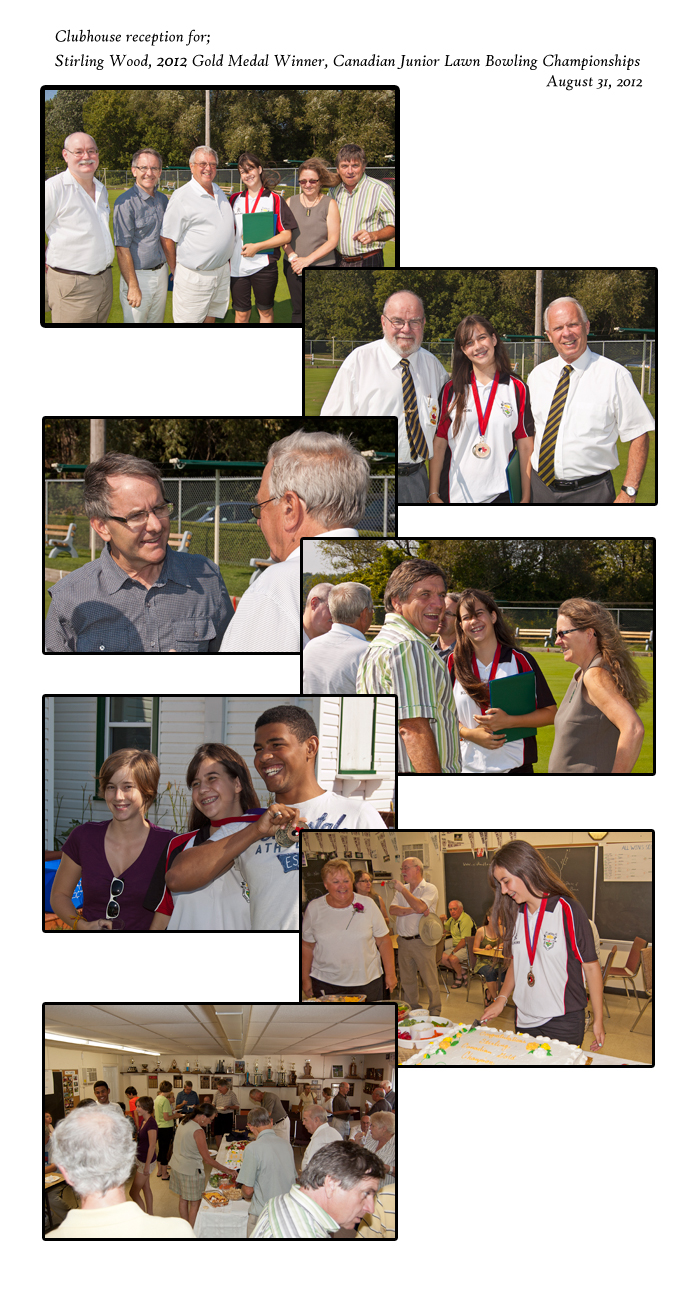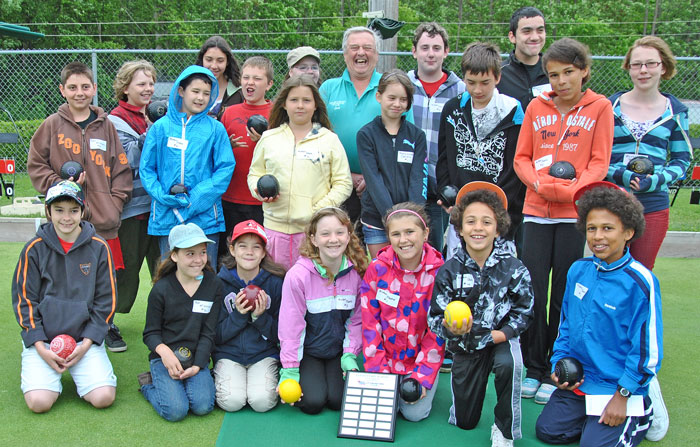 The Midland and District Lawn Bowling Club's Elementary School Tournament took place on June 12th, 2011 on a very cold day. Sponsored by J. P.'s Auto Service Centre, Midland, there were 20 students representing four schools, playing pairs, in three, ten end games. The winner was Huron Park PS, second place went to Port McNicoll PS, followed by Huron Park PS in third.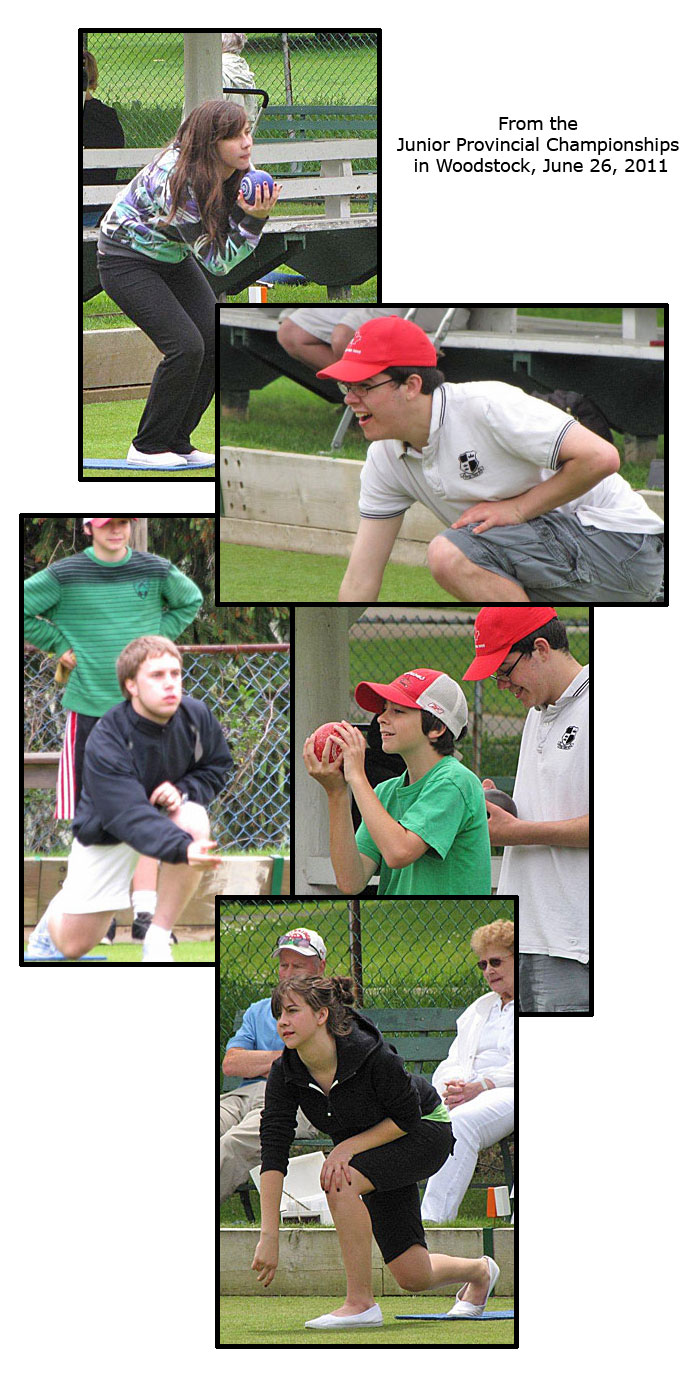 ---
---
---